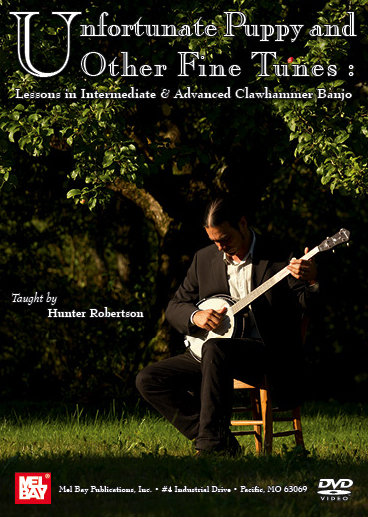 Unfortunate Puppy and Other Fine Tunes - Lessons in Intermediate & Advanced Clawhammer Banjo
DVD (Mel Bay 22208DVD)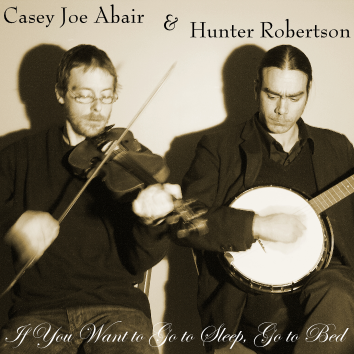 Casey Joe Abair & Hunter Robertson


If You Want to Go to Sleep, Go to Bed

(Yodel-Ay-Hee 074)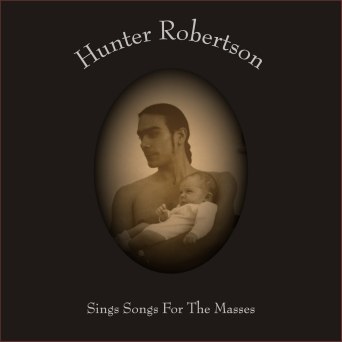 Hunter Robertson


Sings Songs for the Masses
Unfortunate Puppy and Other Fine Tunes
teaches ten classic fiddle tunes arranged for clawhammer banjo, as well as tools and techniques to help you create your own arrangements. 133 minutes (over 2 hours of lessons!)
"This DVD sets a new standard for banjo instructional material, and I can't imagine any clawhammer player who couldn't pick up a few things while watching it.

" - Banjo Newsletter

(click on the DVD cover picture, above, to see the video at a larger size)

Hunter Robertson begins each tune with a brief introduction and then pre­sents each one in four different stages to help you learn it easily. First, Hunter plays the tune at full speed. Next, he breaks it down, with verbal instruction. The tune is then slowed to half speed so that you can easily follow the right and left hand finger positions, which are shown with a split screen throughout. Finally, the tune is played at a medium tempo for you to practice along with.

The DVD also includes a video of Hunter demonstrating right and left hand techniques and a detailed 26 page PDF booklet with notes on the tunes, general technical information, and thoughts on learning, playing, and arranging for the banjo.

THE TUNES:

EXTRA FEATURES:
A brief look at 2 and 3-finger picking.
A full-length performance video of the song "Raleigh & Spencer".
Buy here
Reviews:

- "This DVD sets a new standard for banjo instructional material, and I can't imagine any clawhammer player who couldn't pick up a few things while watching it." - John Walkenbach, Banjo Newsletter

- "This DVD stands among the best out there for learning more about the old-time banjo styles." - Bluegrass Unlimited

- "...That said, this is the best instructional video I've ever seen. It is well worth your money and more importantly, it is well worth your time." – Tony Spadaro, aka Old Woodchuck, from Rocket Science Banjo
- "...excellent new instructional dvd by Hunter Robertson that teaches 10 banjo arrangements of fiddle tunes in the clawhammer style." – Gadaya from Cornbread, Molasses & Sassafras Tea

- "This is an excellent DVD and should immensely please those who are interested in the style, who'll find not only beautiful versions of fiddle tunes but also ideas for arranging pieces of their own choice." – Claude Vue,

Trad Magazine



- "The clawhammer style may seem clumsy and primitive, here it becomes clear how subtle and elaborate it can be…
Working one's way through these music lessons will cost some considerable effort, but in the end one surely will have learned something." – Eberhard Finke,

No Fences/Bluegrass Bühne Magazine
An album of old-timey banjo & fiddle duets.

A Solo Album of Traditional & Original Music performed on Banjo, Guitar and other Instruments.
~

Sing Out! Magazine

: "...These guys are well versed in the repertoire, but even more important, they deliver it with fresh abandon. They don't sound like they're scared to make a mistake, which is an even greater homage to the old songs. ...Terrific packaging and liner notes, with brief historical sources on each song and banjo tunings. A highly engaging selection, well played."

~

Trad Magazine

: "... Certainly one of the best current CDs of old-time music."

~

Maverick Magazine

: "Fast-paced picking carried off in such a confident and prolific way that simply leaves you gob smacked... A highly recommended album which I strongly urge you to try and track down."

~

Times Ain't Like They Used to Be

: "... An elegant and tasty packaging along with some fine liner notes (the source and tunings are provided for each track) to boot makes this cd a must-have for every fan of authentic and deep appalachian old-time music."

~

Rambles.Net

: "... Their music is bright, vivid and lovely. If you find yourself nodding off through Sleep, see your doctor."

~

Old Woodchuck

: "... the old tunes played with the fire and enthusiasm they really deserve but seldom get these days..."























































~

Sing Out!

: "...Hunter Robertson is a highly talented traditional musician. Sings Songs for the Masses is as strong a solo CD as I've heard in quite some time."

~

Rambles.Net

: "...Songs for the Masses is for neither the masses nor the timid. But if you're up for a walk through the lonesome valley that stretches across the moonless landscape of the old, weird America, Robertson will show you the way."

~

Trad Magazine

: "...I consider this to be one of the best CDs I've heard recently."

~

County Sales

: "If you like Old-time banjo picking and you're in the market for something different, you might try this unusual CD. But be forewarned: it ranges from the sublime to the bizarre: "songs for the masses" it definitely ain't..."

~

Musical Traditions

: "All of the playing is pretty quirky - and extremely interesting..."

~

Low Down Nick

: "I like your tunes very much... I won't say they're "the real stuff", 'cause this is a quite ungrounded cliché. It's that mixture of rawness and tenderness and the feeling that you love on different levels whatever you are engaged in when playing."

~

Sepiachord

: "...And it does sound vital. This isn't some stodgy, dusty recreation of old-time field recordings..."