Hunter Robertson
Old-Timey Music for Body & Soul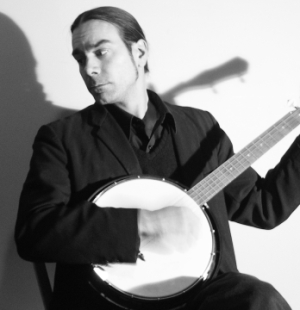 Welcome. If you're interested in old-time banjo – clawhammer and fingerpicking – then you're in the right place.

Head over to Music/Store to hear some music, Banjo Stuff/Lessons for tips on playing, instructional videos and... lessons, Video to see... uh, videos... The rest is probably clear enough. Poke around, there's a lot of stuff here as it's been a while since I swept out the corners.

Enjoy.



… Hunter Robertson is a highly talented traditional musician. Sings Songs for the Masses is as strong a solo CD as I've heard in quite some time. –

Sing Out!



… Robertson is an excellent player and singer… and as I discovered, he's also an exceptional instructor. This DVD sets a new standard for banjo instructional material, and I can't imagine any clawhammer player who couldn't pick up a few things while watching it. –

Banjo Newsletter



… Fast-paced picking carried off in such a confident and prolific way that simply leaves you gob smacked... A highly recommended album which I strongly urge you to try and track down. –

Maverick Magazine


---
What news:



- Skype Lessons. If you're interested in improving your clawhammer playing or learning some 2 or 3-finger picking, get in touch. You'll need a webcam, decent internet connection and Skype (which is free). My fee is $25 for a half an hour, or $50 an hour if a longer lesson suits you better. To find out more about the lessons and scheduling, send me an email.

-

Tabs

for

Unfortunate Puppy

, here.

- I have a new

clawhammer banjo instructional DVD

out with Mel Bay,

Unfortunate Puppy and Other Fine Tunes - Lessons in Intermediate & Advanced Clawhammer Banjo

(Mel Bay 22208DVD). It teaches ten classic fiddle tunes arranged for clawhammer banjo, as well as tools and techniques to help you create your own arrangements. See more about it – including a video – and order it on this page.

- My most recent CD, recorded with fiddler Casey Joe Abair,

If You Want to Go to Sleep, Go to Bed

(Yodel-Ay-Hee 074) is still out and loose in public. See it, hear it, buy it.