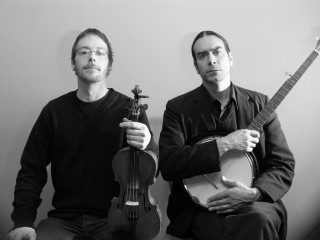 Friends and acquaintances:

Rob, he's a crazy (or is that crazed?) composer. We go way back. He has a studio. And a pyrophone.

Another old friend, Josh Neilson, painter.

David French, musically inclined cousin.

Andric Severance, another musical cousin (we're a musical family!). Red hot piano playing.


Dominic Turner, the ultimate Multimedia Oddjobs Man. Not only beautiful photography, no, not just a good graphic artist, but a damn fine musician too.

Tiffany Riley, painter.


Moniker is/was a band, with good music you can listen to on their site.

Matt Texter - New and used traditional American roots music.

Aram Bedrosian - this guy's such an incredible bass player, I turn green with envy at his technical ease every time I listen to him.

Jonathan VanBallenberghe - director of The Ostrich Testimonies, for which I recorded music.

For old-time themed t-shirts and design, check out Old Groove, they also have a nice directory of old-time music on their site.

My wife Féréale has been making some beautiful hand-embroidered dolls and sachets recently, check them out on Etsy.

Music

Good music... among the myriad: Hobart Smith, Luther Strong, Fred Cockerham, John Fahey, Marcus Martin, John Salyer, The Incredible String Band, Henry Burr, Jacques Brel, Captain Beefheart and his Magic Band, The Holy Modal Rounders, Bob Dylan, Tom Waits, Nick Cave, Dock Boggs, Bukka White, Bascom Lamar Lunsford, Blind Willie Johnson, Bonnie "Prince" Billy, Buell Kazee, Charlie Patton, Psarantonis, Leonard Cohen, The Pogues, Steve Reich, Aşık Veysel etc.etc.

There's some great music to be found out on the internet, if you have the connection speed and patience (unlike me) to sift through it all. Curtis Eller's American Circus (with songs about rampant elephants no less, banjo and yodeling never sounded so good), The Can Kickers, Tamara Nile, Mickey Pantelous (blues in Athens and I don't mean Georgia) and adam kay come to mind.


If American field recordings are your cup of tea, the Max Hunter Collection and The Library of Congress Lomax archives are well worth going through. Also Folk Legacy's Beech Mountain albums, which is where I got Ol' Virginee. They have Hobart Smith and Frank Proffit albums too. They're also just up the road from my Grandfather's place. Music Traditions has a lot of information on traditional music, including album reviews with samples. Some of the Sardinian recordings listed there are truly beautiful. Honking Duck has a bunch of commercial recordings from the 20's to the 40's available.
For older commercial recordings, dating back to the late 1800's, have a look at Tinfoil.com, Le Gramophone Virtuel and Cylinder Preservation and Digitalization Project, University of California.

This here, The Music Maker Relief Foundation is well worth your support. They're "helping the true pioneers and forgotten heroes of Southern music gain recognition and meet their day to day needs."


Instruments

There are some excellent luthiers around, making instruments as good or better than those produced in the past.

Since I originally wrote this there seems to have been an explosion of banjo makers, I can't hope to name them all... but, Bob Flesher makes beautiful banjos (though I haven't heard one live, where's a fat wad of cash when you need it?), Buckeye Banjos by Greg Galbreath are mighty fine lookin'. From the land of Bacon there's Will Fielding, go north and there's Luke Mercier, way over to the west and you have a good cheap beginner's banjo from Deering, as well as higher end stuff, and... Philippe Revel does beautiful work in Lyon, France, Wunder makes minstrel style banjos... and I'm still doing a bunch of makers the injustice of not mentioning them!

The slotted head and narrow waist of the old 12 string Stellas, like Leadbelly played, make for a very pretty guitar, not to mention their sound qualities, and there are a few people making re-productions that I know of: Ralph Bown, Michael Hauver, and Fraulini Guitars. Have a look at R.E. Phillips and Don Morrison for resonator guitars.

Dennis Havlena is my kind of person, instruments made from anything and everything. Also to be seen, Experimental Musical Instruments. Harry Partch, what a guy.


For old instruments, Bernunzio, Mandolin Brothers (worth reading just for the commentary), and Marc Silber have simply amazing stuff.

Both Mugwumps, and Banjo-l are good sources of banjo information, each with a wealth of links ever onwards. I have to mention David Hyatt's gourd banjo site while I'm at it (this is threatening to start going on and on...), very attractive site with pictures and sound files.

Other

Scientology - the science of knowing how to know answers. It is a wisdom in the tradition of ten thousand years of search in Asia and Western civilization. It is the science of human affairs which treats the livingness and beingness of man, and demonstrates to him a pathway to greater freedom.

So many bright and shiny things...see facsimiles of William Blake's books, read Jean D'Arc's trial transcripts, learn how to make sulfuric acid, listen to T. S. Eliot read The Love Song of J. Alfred Prufrock etc. etc.


Recordings

The software I used for the recordings: N-Track (a multitracker, excellent, cheap), Sinus's PeakComp and FreeverbToo. Razorlame for making the mp3's, oggdropXPd and Audacity (which is also probably the best free editor aound) for the ogg vorbis files, and TagScanner for the tags. Gotta love these people for putting such good, free software out.